[fusion_builder_container hundred_percent="no" equal_height_columns="no" menu_anchor="" hide_on_mobile="small-visibility,medium-visibility,large-visibility" class="" id="" background_color="" background_image="" background_position="center center" background_repeat="no-repeat" fade="no" background_parallax="none" parallax_speed="0.3″ video_mp4="" video_webm="" video_ogv="" video_url="" video_aspect_ratio="16:9″ video_loop="yes" video_mute="yes" overlay_color="" video_preview_image="" border_size="" border_color="" border_style="solid" padding_top="" padding_bottom="" padding_left="" padding_right=""][fusion_builder_row][fusion_builder_column type="1_1″ layout="1_1″ background_position="left top" background_color="" border_size="" border_color="" border_style="solid" border_position="all" spacing="yes" background_image="" background_repeat="no-repeat" padding_top="" padding_right="" padding_bottom="" padding_left="" margin_top="0px" margin_bottom="0px" class="" id="" animation_type="" animation_speed="0.3″ animation_direction="left" hide_on_mobile="small-visibility,medium-visibility,large-visibility" center_content="no" last="no" min_height="" hover_type="none" link=""][fusion_text]
If you have ever filed any kind of insurance claim, you probably already know that it can be a tedious process. Insurance may be designed to protect policyholders financially in certain scenarios, but adjusters often approach cases as if they were fraudulent, placing a considerable burden on claimants.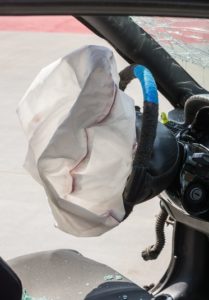 Unfortunately, even when liability is clear and the damages are extensive, accident victims may still struggle to recover a fair settlement. Insurance adjusters are skilled negotiators, and unless you provide irrefutable evidence of every cost for which you are seeking compensation, you may only receive a fraction of what you deserve.
In addition to handling correspondence with the insurance adjuster, a seasoned accident lawyer will not fall victim to the opposing party's intimidation tactics during negotiations. To discuss your case with a Madison car wreck lawyer, turn to Ballard Law, PLLC.
William E. Ballard can help you navigate every stage of the claims process so you can focus on your health. Call 769-572-5111 to schedule a free consultation.
What NOT to Do When a Car Insurance Adjuster Contacts You After a Collision
From the first point of contact, an insurance adjuster will look for a reason to deny your claim. Since even a minor misstep could ultimately prevent you from recovering the compensation you deserve, it is in your best interests to avoid talking with the adjuster at all until you have obtained legal counsel.
Of course, if the liable party is a conscientious motorist who calls his or her provider right away, you can expect to hear from an adjuster fairly soon after the incident. The company representative may sound caring and compassionate, and it might be tempting to handle the case on your own after talking to him or her; however, it is important to remember you two have competing goals. As a result, you should be wary of letting your guard down and approach every interaction with caution.
Read on to learn how to protect your claim when talking to an insurance adjuster early in the proceedings:
Never Admit Fault
The insurance adjuster will likely ask you to describe what happened. You should avoid going into detail or admitting fault in any way. If the representative is persistent, simply state that an incident occurred on the date in question but you must seek legal counsel before discussing it any further.
Never Give a Recorded Statement
Adjusters often try to obtain recorded statements early in the claims process, before the full extent of damages is apparent, so they can limit the total settlement later in the proceedings. Even those who have reached maximum medical improvement should be wary of providing a recorded statement prior to speaking with a lawyer because there may be certain kinds of damages that they fail to take into account.
Never Feel Pressured to Settle
Although only a small percentage of personal injury claims make it to trial, taking the case to court is always an option. That means you should not feel pressured to accept an unfair settlement just because the insurance adjuster is encouraging you to do so.
If you were hurt in an accident that was not your fault, a strategic lawyer from Ballard Law, PLLC will handle all interactions with the opposing party so you can focus on your health. Contact us online or call 769-572-5111 to schedule a free case evaluation with a car wreck attorney in Madison. You can learn more about accident claims in Mississippi by visiting the USAttorneys website.
[/fusion_text][/fusion_builder_column][/fusion_builder_row][/fusion_builder_container]